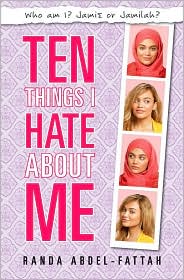 Ten Things I Hate About Me
is written from a perspective I've never encountered before--an Australian Lebanese-Muslim teen. Jamilah has a double identity. At home she lives a traditional and highly structured life with her strict father and older siblings. At school, she is Jamie, a blonde (thanks to hair dye) and blue-eyed (thanks to contact lenses) girl who will do anything to hide her ethnicity and become more popular.
This dual personality is a balancing act which prevents her from being truly comfortable with anyone. Enter her new email buddy, with whom she can finally be honest. You can probably guess how that storyline ends.
What I appreciated most about this novel was the insight into the life of a Lebanese-Australian family. Author Randa Abdel-Fattah sprinkles facts throughout the novel which broadened my knowledge of the culture. While obviously heightened to propel the plot, it was interesting to learn about the cultural tensions that could exist in an Australian high school. For example, people from New Zealand experienced a lot more prejudice than I expected.
There were a few instances of sloppy writing that took me out of the story. At one point, the descriptor "bottle green" was used twice in as many pages. Also, multiple scenes end with Jamilah storming from the room in tears. While this may be typical teenage behavior, it felt more like lazy writing and a lack of direction.
Minor complaints aside,
Ten Things I Hate About Me
is a novel that will appeal to many female readers and is worth checking out.