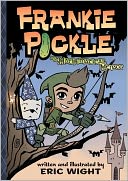 Read Part One of my graphic novel suggestions for younger readers here.
Freddie Pickle and the Mathematical Menace
is a little gift to math teachers from author Eric Wight. This book, written in prose with many comic-style illustrations sprinkled throughout, cleverly shows how math is used in daily life.
Freddie is touted as the kid with the world's most amazing imagination, so a simple math quiz turns into a trip to a dragon's lair, battling number creatures. The illustrations are detailed and fun to examine. Developing chapter book readers will be happy for the frequent illustrations. (Plus, Frankie Pickle looks a lot like the author)
The story felt slightly didactic to me, or at least more moralizing than the books I usually read. Perhaps it is because its target audience is so young. It would be fun to read a chapter of this novel aloud in math class and let students take turns reading it.
Although
Binky Under Pressure
is the third book in the series, it was my introduction to Binky, a space cat who lives on Earth to protect 'his' humans, which amounts to lots of napping and occasional snuggling. Binky's goal is to rise in the ranks of F.U.R.S.T. (Felines of the Universe Ready for Space Travel), but he gets sidetracked when a new cat moves into his home. Gracie is cuter and better-behaved, so Binky must use all his Space Cat skills to compete with this interloper.
Ashley Spires' illustrations are clean, detailed, and appealing. It could be difficult to draw pictures of a cat who spends all day laying down and occasionally swatting at flies, but Spires' talent ensures that readers will examine each drawing for the slight differences that bring a giggle. Get all three of the books out of the library and watch your readers happily breeze through them.