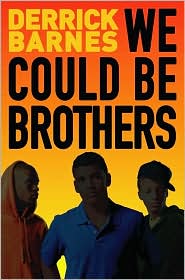 I'm eager to hear what my students think about this book, because I'm torn. Part of
We Could Be Brothers
is a classic high school story: Pacino and Robeson are boys from different worlds who meet in detention and discover they have a common enemy in Tariq.
The other side is a very clear message of empowerment by author Derrick Barnes. Every aspect of the novel is tailored to educate African American boys on their potential. The characters attend
Alain Locke
Middle School, Robeson's father runs Brand New Vision, an organization of powerful men who charge themselves with bettering the community, and Robeson is a champion martial artist. This is where my conflict lies. I completely believe in everything Barnes is trying to do, but wonder if the message is too heavy-handed. For me, it felt that way, but maybe it needs to be explicit for developing readers to get it. I'm excited for my students to read
We Could Be Brothers
so that we can have a frank discussion on Barnes' themes.
Am I being cynical? I'd prefer for my students to be inspired through a subtly well-written story, but anything that empowers them ultimately works for me.