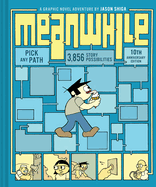 I'm reviewing a graphic novel every Tuesday in November. Check out the first review here.
Are you reading the blog
Stacked
yet? It is really fabulous and has been a gateway to so many new books this year. Among the gems is
Meanwhile
, a graphic novel by Jason Shiga. Part Choose Your Own Adventure, part "Sliding Doors" for kids, this book is all about making decisions.
On the first page, Jimmy has to choose between buying chocolate or vanilla ice cream. From there, the reader follows tubes and tabs which lead him through a variety of adventures with Professor K and his bizarre and destructive inventions. The cover promises 3,856 possible stories and I believe it.
Meanwhile
is the most inventive book I have ever read, and the best part is that although I spent a good amount of time exploring it, I did not even begin to crack the depth of it. This is a book that my students will devour.
Even more impressive than the book is the author: Jason Shiga has a degree in pure mathematics, has invented board games and card tricks, and written many comic books. I am so grateful that there are minds like this in the world, challenging what we think about how books should be read or how stories should go. I appreciate all the clever details of
Meanwhile
, like the laminated pages and the fact that you can't cheat and backtrack, like I always used to do in Choose Your Own Adventure books. In life, you don't get to keep your finger in the page and remake your choices, and in Shiga's world sometimes a chocolate ice cream cone can lead to the best or worst day ever.