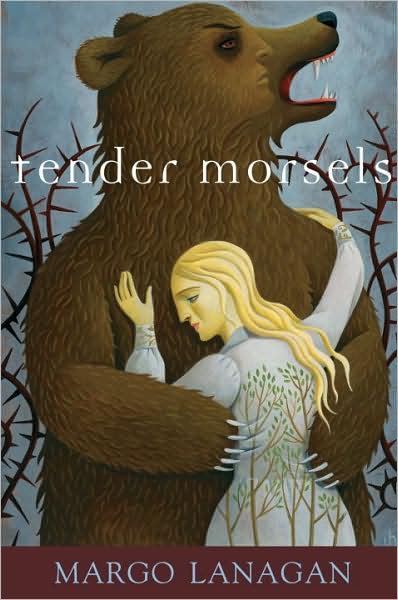 Two pages into
Tender Morsels
, I realized I would not be comfortable putting this on the shelf in my middle school classroom. I figured I should set it aside and focus on books for 6th graders. Then I was suddenly on page 20. Then I was on page 60. Then it was all over, I was hooked.
(I also think it was brilliant to put material that readers might object to at the very beginning of the novel. If you don't like what you see, stop reading!)
Margo Lanagan's epic novel is like nothing I've ever read. She manages to blend magic realism, time travel, dreadful and wonderful family relationships, fairy tales, magical animals, and about a thousand other elements into an amazingly affecting story. At several points, I wondered if Lanagan had a plan when she started writing this novel, and I mean that as a compliment. The scope of
Tender Morsels
is overwhelming. In the briefest of summaries, Liga raises her two daughters in a fantasy world after suffering horrifically as a young woman. Gradually, the fantasy world and reality clash and the women need to adjust to a life where there is darkness as well as light.
Lanagan is a gifted writer and I have added
Black Juice
, her book of short stories, to my library list. Each of the characters is fully developed, often with their own dialect, and written gorgeously. One of my favorite lines describes Branza, who struggled to adapt to the real world, "She was full of wolf-teeth, wolf-love of herself, wolf-rage on her behalf". I am greedy for more young adult literature with writing of this quality.
I have been thinking about the fact that I have read so many YA books lately that tackle subject of incest. I'm curious if this is a subject we readers are more open to, if writers recognize a need to be addressed, or if it has always been common and I just happen to be coming across books on incest lately. There's no way to answer that, but I admire the way that Lanagan approaches the subject of incest and rape (in several permutations). I did not find it gratuitous and thought it was clever to front-load the novel with it, so that the plot centers more around healing and moving beyond tragedy. There is a powerful message for the reader: you can survive and grow to be a good person with a good life.
I felt very sad when I came to the end of
Tender Morsels
. While there are many fairy tale elements to the novel, it did not have the typical ending I was expecting (or hoping for). Still, the characters we love have grown and after reading
the author's response
on her blog, I am satisfied with the ending. This is a book I would have loved in high school; it's a book that I love today.