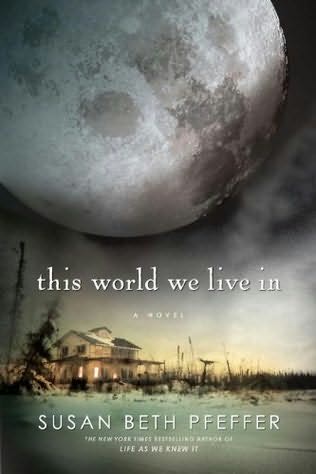 Something I haven't mentioned in my reviews of The Last Survivors series are the covers. They are amazingly scary and keep bringing me back just to stare at them. I also adore the titles for being long and haunting.
Susan Beth Pfeffer's
trilogy will stay with me for a long time.
This World We Live In
picks up a year after the moon has been knocked closer and devastates the planet. In a way, it is a fan's dream come true because it brings the two families from the previous books together and gives the reader more information on how they have fared. Since I am reading this several years after publication, I wonder if this was always Pfeffer's intention, or if readers were crying out for more on Alex and Miranda. I like to think it's the latter.
In this final novel, we return to Miranda's diary and how she copes when her absent father returns with his second wife, their baby, and the Morales kids in tow. Some things remain the same: Miranda's mother is still a pain, everyone is still obsessed with food, and Horton the cat is still alive (seriously, how has some starving wanderer not eaten him yet?! Gross but true.) This novel, however, features some romances...although none are particularly romantic. Pfeffer is realistic here; if the world is ending, you aren't going to be choosy about who you love. This leads to interesting interactions and drama.
This World We Live In
has surprising twists until the very last page and an ambiguous ending. I hope that means this isn't the last we will hear about these characters.